Pleasant living

from the first glance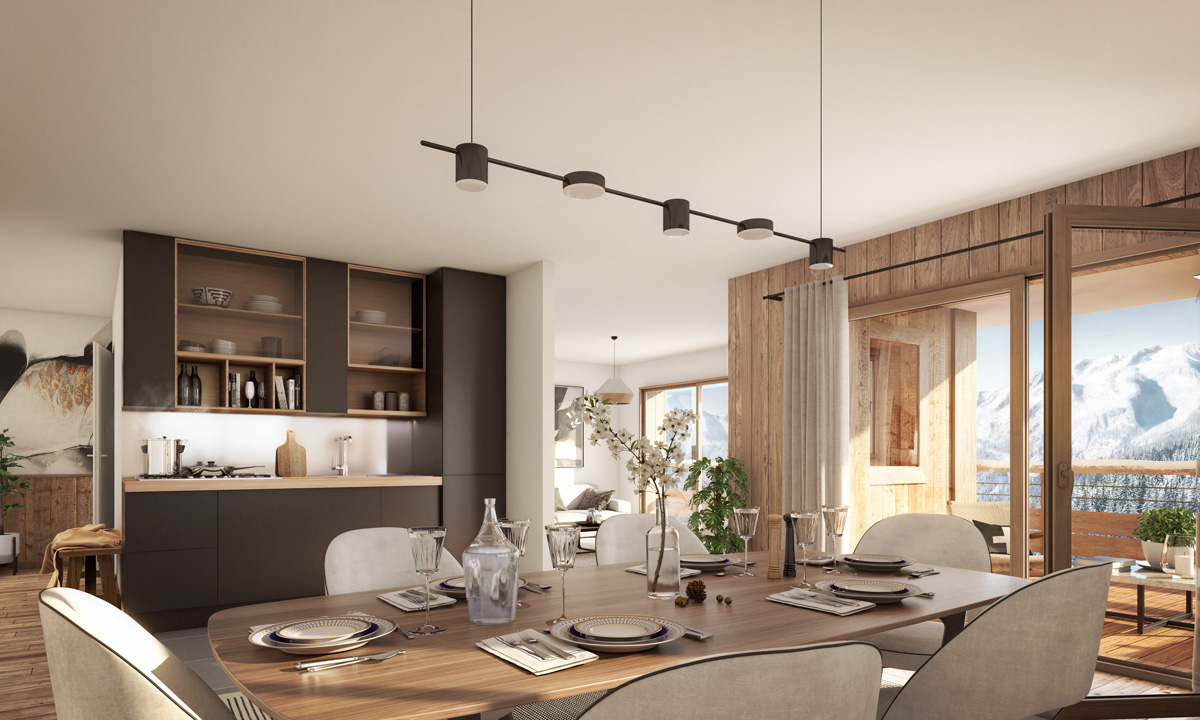 Detail is never superfluous, only and just essential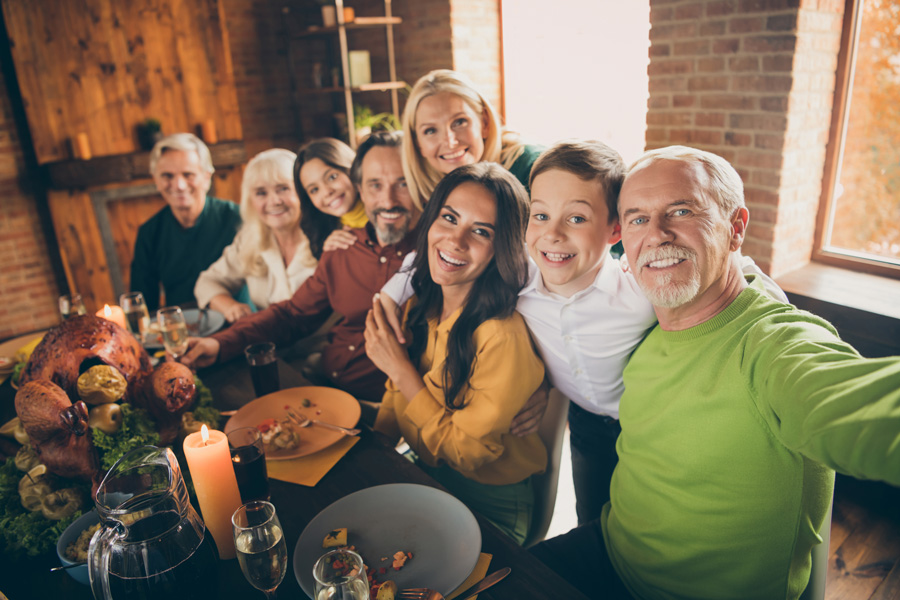 A cocoon imagined for you in an intimate residence with an authentic charm.
Living quarters that offer wide-open spaces decorated with natural and noble materials and neat lines.
Large bay windows as an invitation to natural light to create a warm and welcoming atmosphere.
Comfortable bedrooms designed for easy-living with fitted wardrobes and comfortable facilities.
Bathroom and shower room with top of the range fixtures and fittings and clear light oriented design.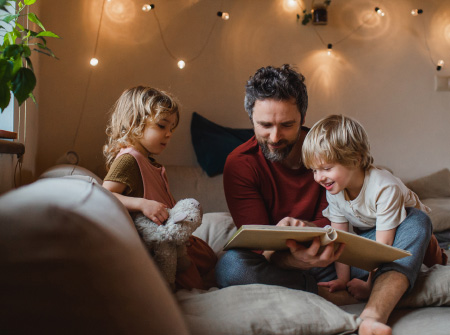 From 1 to 4 bedroom apartments, each apartment has a sense of being unique in its kind.
Large balconies follow-on from the living quarters with exceptional views over the snow-caped peaks.
The care taken for the fixtures, fittings, and interior decoration materials offer the best possible living standards for a remarkable and pleasant way of life.
The living quarters, some with fireplaces*, add a final touch for warmth and relaxation.
*Only for top floor apartments as detailed on the sales leaflet.
Resting
More than just a place to live,
an 'Art de vivre'.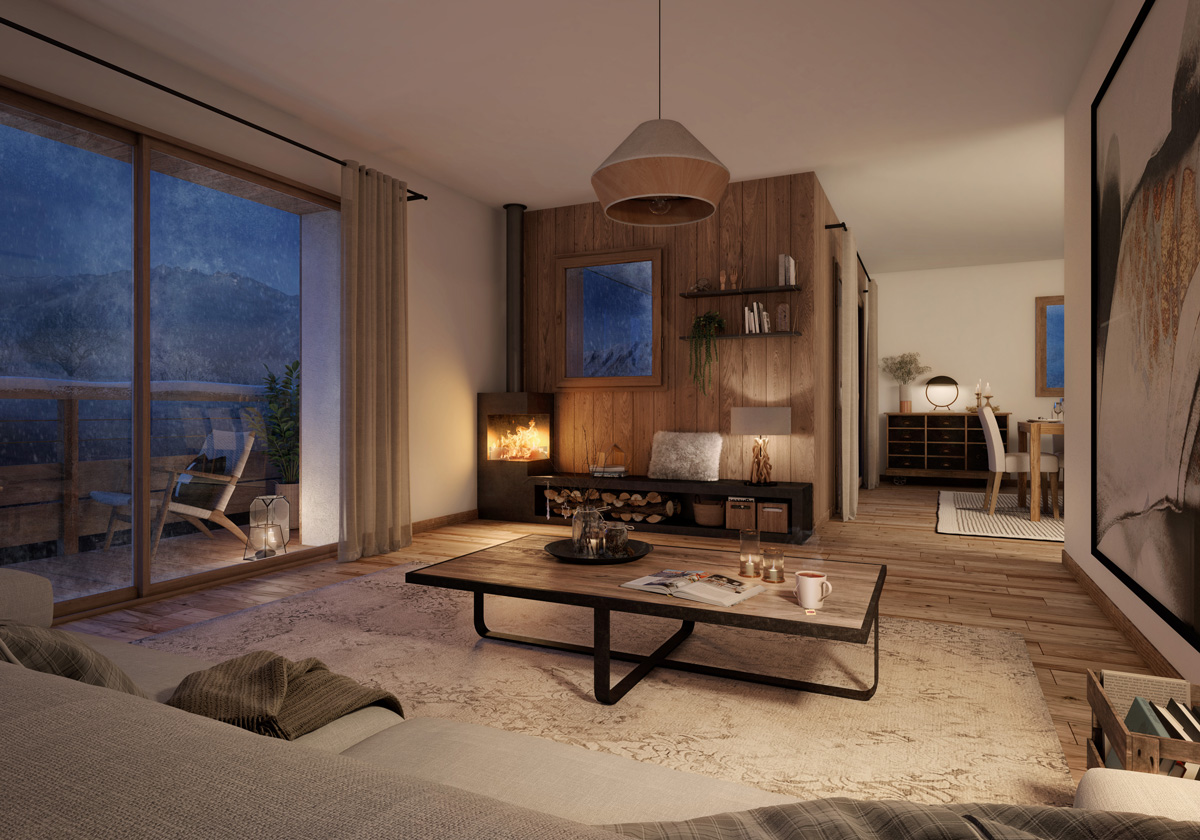 Your senses awakened

in inspiring settings
The taste for moments of pleasure
Is it hot chocolate or a scented infusion? Wholesome food of culinary delights? Whatever your desires and tastes, cooking becomes a pleasure to be shared with friends and family. Your taste buds will recognise the different levels of gastronomy. The mix of dishes and decoration will give you a great sense of blossoming.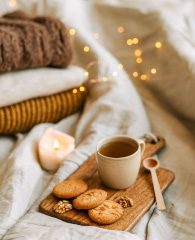 Silence is golden
Close your eyes, and let yourself be guided by serenity... The acoustic virtues of wood and soft flannel curtains reinforce intimacy of a comfy home. When silence is the master, you will only feel your internal vibrations of well-being waiting to be heard!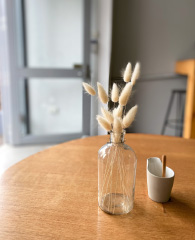 Endless dreams
This kingdom is your own, the one of first impressions that marvel your imagination. An angled old leather finish settee covered with a soft plaid, variegated ornaments that become an 'objet d'art' in a wood cabinet or bookshelf, with green/grey tinted walls, warm and welcoming, and soft lighting adding to the overall feeling of peace and quiet. With a look here and there, you will be moved by the harmony of the interior decoration that inspires mountain life, updated by us.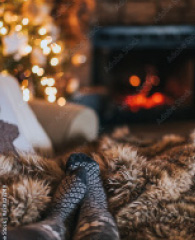 A unique sense of well-being
The harmonious marriage of textiles and materials adds to your inner comfort. The comforting sensation of thick carpets, the softness of the wood beneath your feet, a hand placed on a stone cladding, the other on a glass table, every one of the materials provides a unique tactile sensation.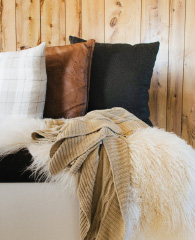 The sweet taste of happiness
What do we want most in Winter evenings? The intensity of an open fireplace, the bouquet of a tea or infusion, or a light smell of wood scented candles. An intimate and warming atmosphere where the scents play with our sensations to guarantee the feeling of being at home.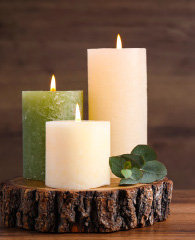 THE INTERIOR DECORATOR'S COMMENTS
We wanted to create warm interiors wherein the owners would feel at home, yet with an overall mountain spirit and design.
We managed to reproduce the atmosphere by using authentic materials, ancient for some apartments and common use areas, and we preferred materials from the natural world, minerals, vegetable etc... We put the accent on a cosy and contemporary atmosphere for each apartment with authentic materials, large spaces and volumes, with proportionate acoustics and natural light in order to maintain the natural and quiet environment with a mountain spirit. Soft, gentle, and with character, the colour coordination was chosen especially to provide a comfortable and pleasant atmosphere.
Cécile CORROT, INTERIOR DECORATOR
The setting for the scenery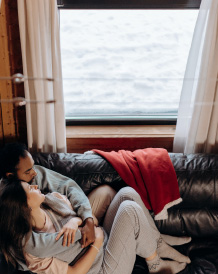 The call of the mountain peaks
A recognised classical approach without falling into the kitsch... For enthusiasts of mountain life in the way that it has always been imagined. All of the classical mountain codes have been revisited in a contemporary manner while remaining warm. Authentic natural materials, warm and welcoming colours, old wood, and stone. 'Comfy' textiles to feel warm and comfortable after a day on the ski slopes.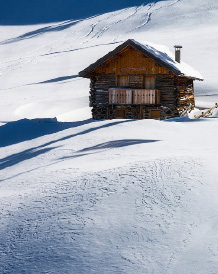 Northern 'chills'
For those who enjoy warm, gentle, relaxing, and naturally lit atmospheres. The mountain becomes a place to live with natural materials that remind Nordic country styles. Light coloured wood, smooth surfaces combined with rugged natural stone work on the outside. The time will come to enjoy outdoor living, and meanwhile, the new owners will be able to enjoy 'zen' living in their own cocoon.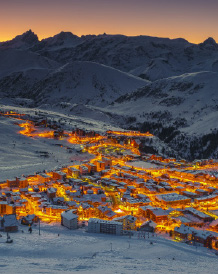 As much Alpine and urban as village dwelling
Mountain enthusiasts can also enjoy a totally revisited version and experience modern living and quality standards, and they will find a smooth mix of both. Always focusing on wood, there is a mix of metals and other materials focused on mountain styles. The atmosphere is just as warm with the subtle and unexpected colours.
A mountain chalet spirit

Contemporary writing
A mountain chalet spirit

Contemporary writing
The mountain world told through the marriage of wood and stone.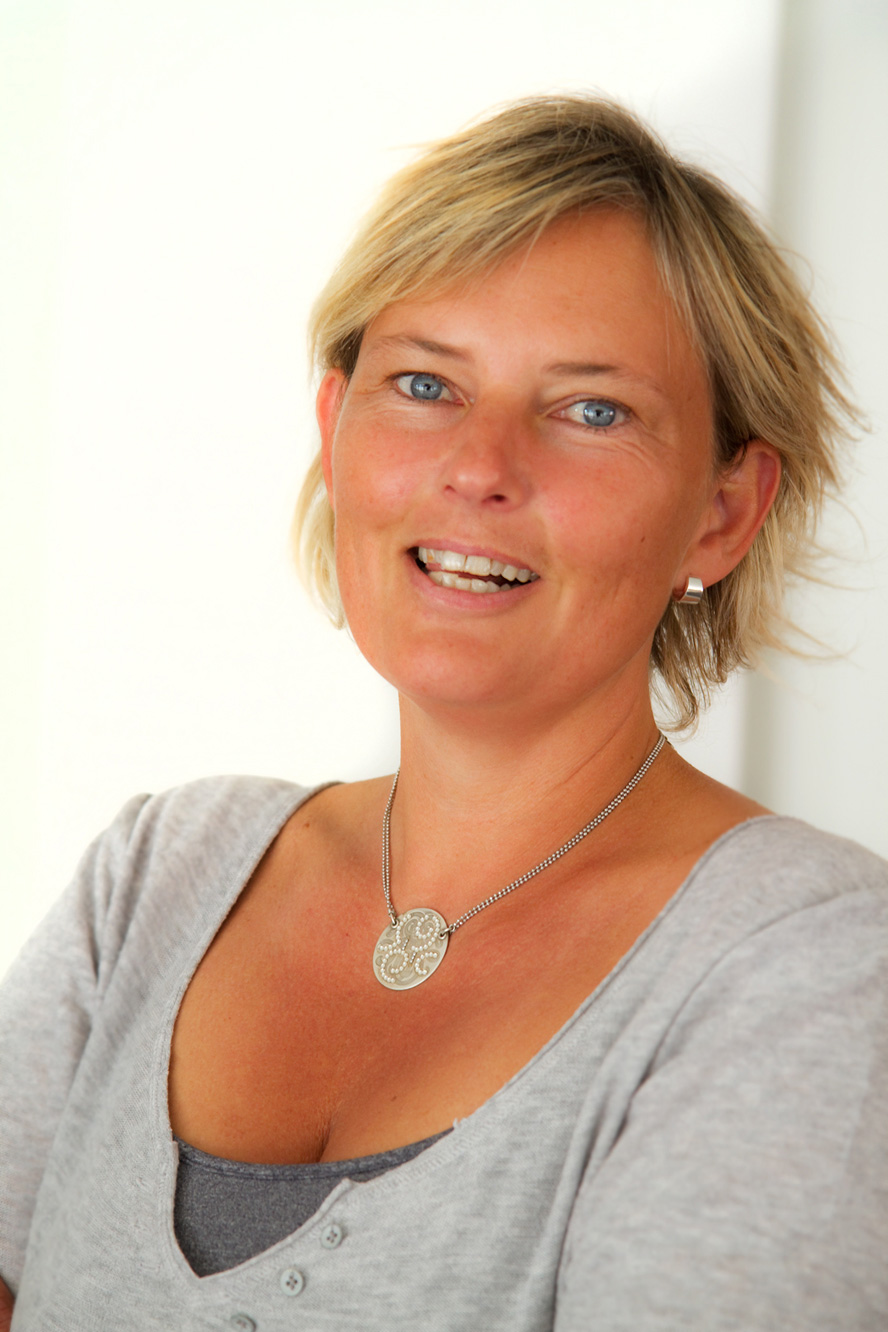 Cathy Pra-Lettry,
CPL Architect
THE ARCHITECT'S COMMENTS
CPL Architects have worked to propose an overall design that strictly reflects mountain and contemporary elements. The stakes for this project were to anticipate the expectations of future residents all the while respecting local traditions with particular care for location and the surroundings. Throughout the development of the initial idea, our main concern was to design and conceive a project with an overall perspective. Marrying the Place du Marché (the Market Square) which is the historical heart of l'Alpe d'Huez, and the view to the ski slopes, of worldwide recognised reputation, was no longer an issue, it was always there and clearly obvious. The magnificent project would not have been possible to complete without the support, trust, and ambition provided by Sogeprom and their team of experts on a continuous and daily basis. Our common visions contributed to make 'Inspiration' a unique place to be in l'Alpe d'Huez.
The luxury

of top quality fixtures and fittings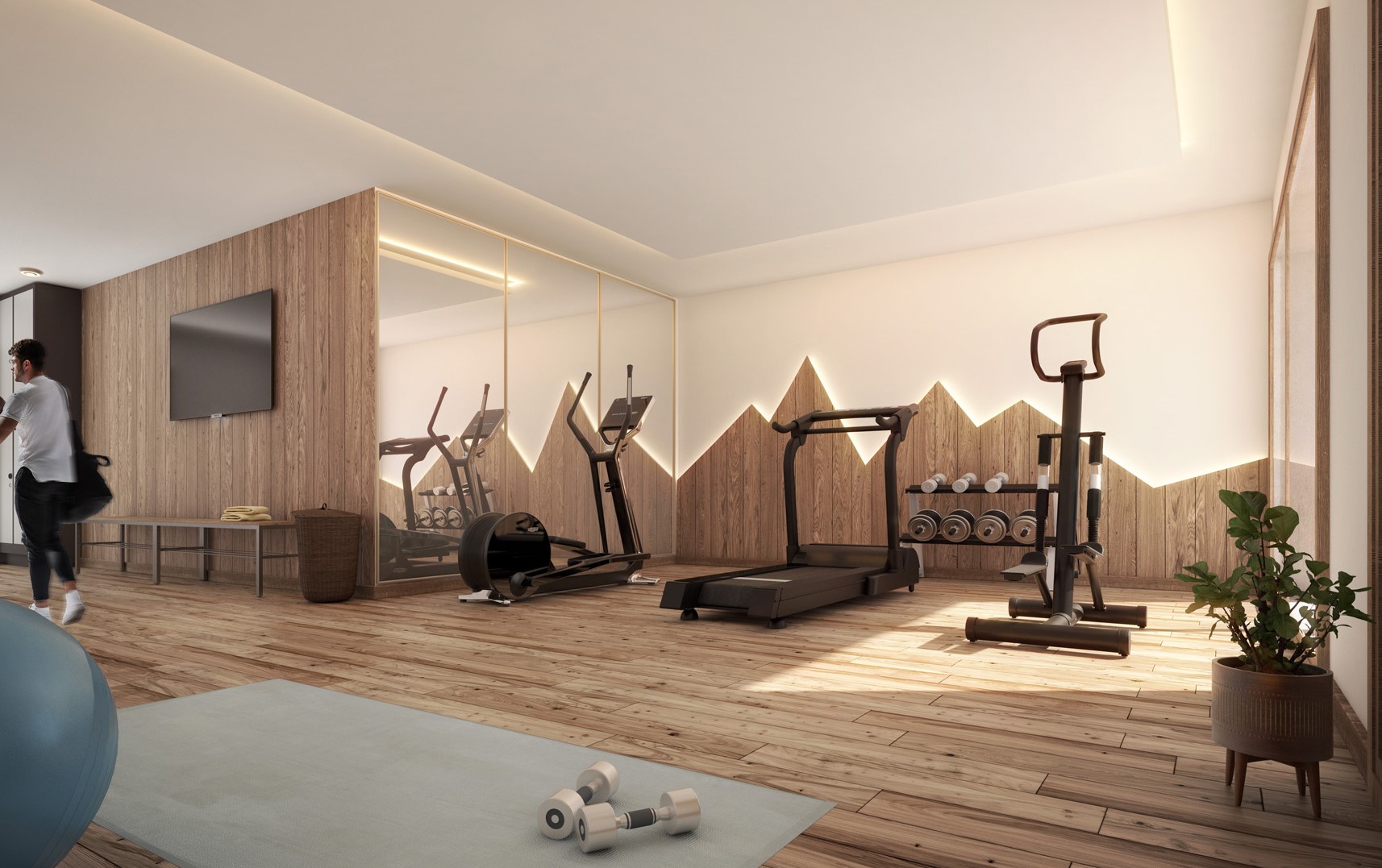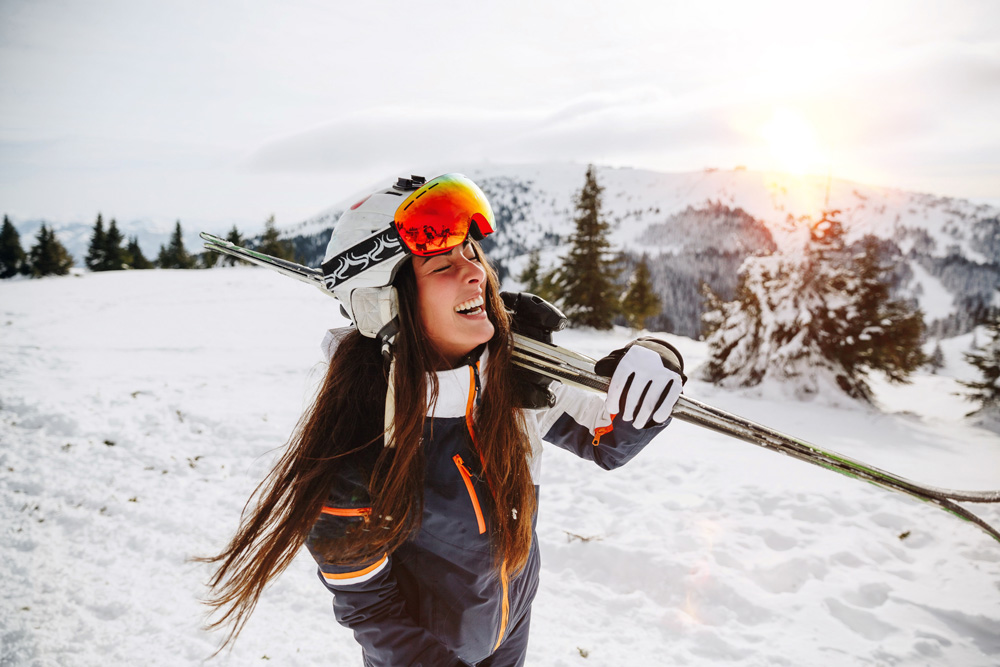 Daily living under the sign of excellence.
A private fitness centre/gym to keep in shape and workout at your own rhythm.
Ski locker room with heated ski boot rack and closets to start a new day with warm and dry gear.
Underground car park to protect your car from the cold and the snow.
Alpe d'Huez

The island of sunshine at the heart of the French Alps.
Located at 1860 m altitude on the 'Massif des Grandes Rousses' (Grandes Rousses mountain range), l'Alpe d'Huez rises above the clouds to be bathed in sunshine.
The queen of the Isère Department ski resorts, to be enjoyed throughout the year.
Nearly 300 days of sunshine per year.
Grandiose panoramas.
A mythical mountain resort
A resort to be enjoyed with family, friends, or alone.
World renown sports, cultural, and festival events.



---



Mountains at their fullest
Guaranteed snow cover allows you to ski directly to and from the building.
250 km of marked snow trails and one of the largest off-piste areas in France.
A wide range of activities, on and off the snow, whether traditional or outstanding, such as nighttime floodlit skiing, ski-joëring (horse-drawn skiing), telemark skiing, and snowscoot (cycle-ski), curling, or rail tobogganing.
A large selection and choices for well-being, enjoyment, and dining pleasures. A number of shops that offer a selection of shopping pleasures.
A territory for great feelings and sensations
L'Alpe d'Huez is an unmistakable part of the Tour de France race and Mountain bike enthusiasts also have an extended playground!
Breathtaking trails with some 250 km of marked mountain bike trails set between sumptuous panoramas and majestic lakes.
Tandem parascending or introduction to micro-light flying, flight enthusiasts can enjoy the best of airborne sports.
9-hole golf course accessible for all levels.
Over thirty sports activities available at the indoor Palais des Sports (Sports Centre).
The best that the resort

has to offer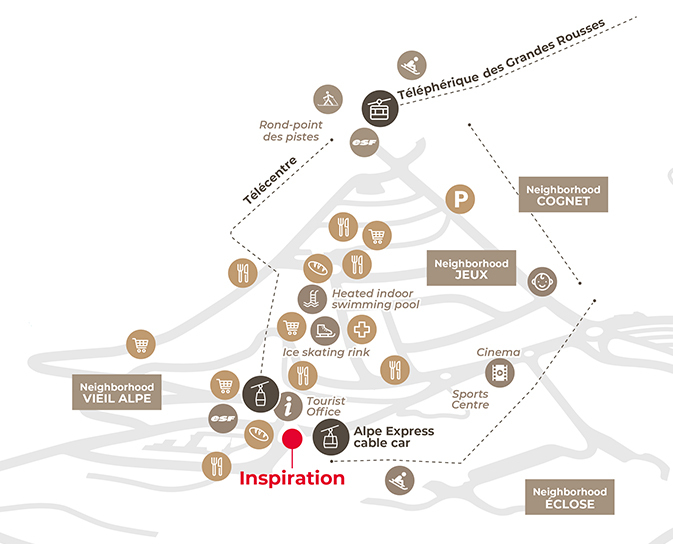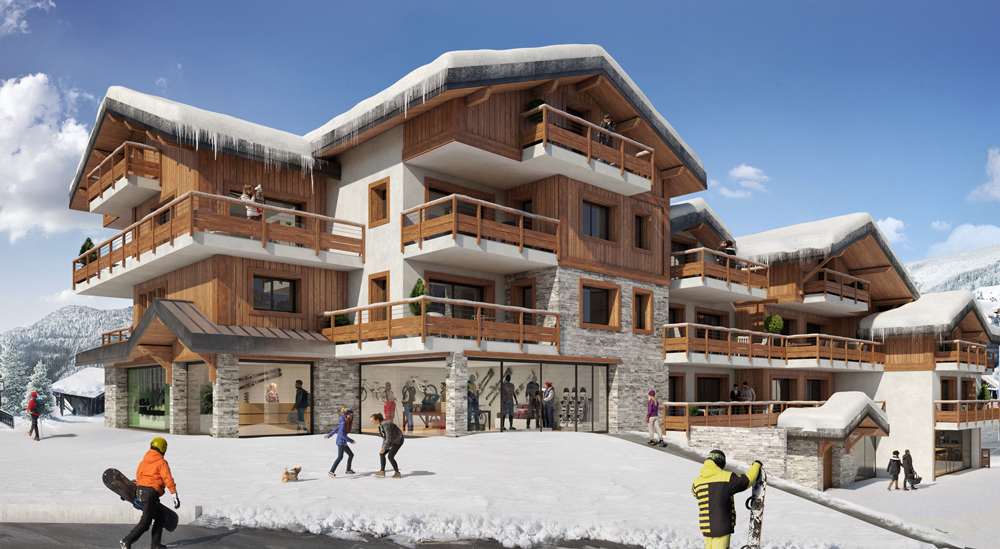 Leave for a day on the slopes with your snow gear, return for lunch on your terrace, and set-off again to finish the day without losing a minute. All shops and services available at the foot of the building... This is what is on offer for you.
Ideally located in the 'Viel Alpe' (Old Alpe) neighbourhood.
Facing the snow, close to the Alpe Express cable car.
A few minutes walk from the bustling Avenue des Jeux main street.